Even after constant warnings from the government and the continuous alarm that has been raised across Social Media, the vicious and life-threatening online game – Blue Whale challenge has managed to claim yet another innocent teenage life.
A 19 year old engineering student from BITS PILANI Hyderabad campus has reportedly committed suicide by suffocating himself with a plastic sheet wrapped around his face.
The victim T Varun was found dead at his residence in Maple Town Villas at Gandipet in Hyderabad. "We suspect he might have committed suicide while taking the challenge in the Blue Whale game. We have recovered his laptop and sent it for detailed forensic analysis" – said Inspector of Police, V Umender as he spoke to India Today.
Earlier the Hyderabad Cyber Crimes Police had issued an advisory on the game, asking parents, education institutions and children to be cautious.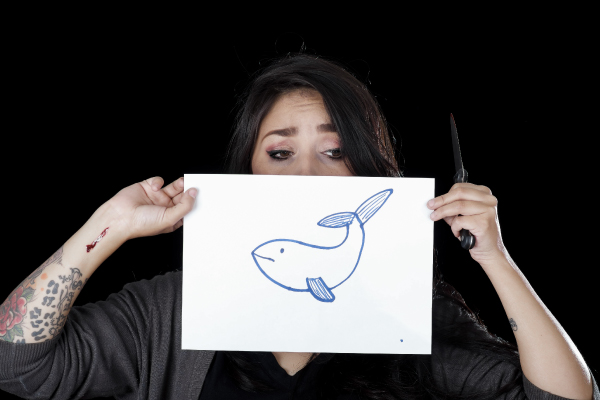 Watch out for these signs and symptoms
The government has specified that parents, guardians and most importantly friends must watch out for these signs and symptoms to detect a Blue Whale victim…
Watch out for long online presence at odd hours
Look out for the teen waking up at odd hours of the night (3-4 a.m) and watching a movie or videos (Horror or Psychedelic)
Watch out for cuts, marks or pinpricks on the body. Victims are usually urged to cut or hurt themselves and carve "f57" or a blue whale on their body.
Look for sudden changes in temperament, odd behavior and mood swings. If a teen – be it in your friend circle or family – suddenly becomes reclusive or moody, you need to wary.
Friends avert tragedy, save a teen from Blue Whale
In August 2017, a Kolkata student playing the Blue Whale game was rescued by his friends as they spotted the whale etching on him and alerted the teachers who in turn informed the registrar Mr Tapas Satapathi.
Tapas Satapathi, later in an interview to NDTV said "I had seen some awareness campaigns on social media done by the Criminal Investigation Department or CID of the West Bengal police. So I immediately knew the gravity of the situation. I called the police for help. And the parents."
The CID inspector who had intervened was glad the awareness campaign had come in handy. "I did not initially tell the student I was police. I said I was a counselor. He was afraid that if he stopped playing, he might start getting phone calls from people called curators and engage with those who continue to play after the first few stages" he told NDTV.
The boy was lucky as his friends managed to avert the tragedy just in time. The boy was then counseled in presence of his parents. "I am very grateful for the intervention of my friends, teachers and the CID officer" the boy said.