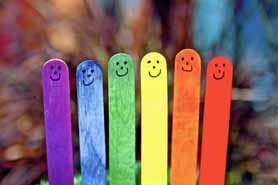 Let's start with the basic question first i.e. the full form of LGBTQ
L – Lesbian
G – Gay
B – Bisexual
T – Transgender
Q – Queer
So it includes people who come under the above mention categories.
Generally speaking science claims that there are only two genders: male and female. You must be thinking 'that's bizarre' and that is a legitimate response too.
Consider any gay couple around you: one of them is always more feminine than the other. Doesn't this mean that two of them are of different sexual constructs? If that is so, isn't that a different gender altogether?
You might have come across women who although like to be dressed as men are sexually oriented towards men or men who like dressing up and looking a bit feminine but still have their sexual interests in women.
There is a whole lot of variety when it comes to sexuality, orientations and interests.
Recently a research has revealed that there are 63 genders in humans. However, there are always debates on such topics which seem to be never ending. Not only are the researchers and scientists confused but even we, as humans of average IQ, many a times tend to think that people whose sexes or sexualities are unusual are mistakes of nature or nurture.
Our determined emphasis on thinking in terms of binary categorizations of male/female, man/woman, heterosexual/homosexual, right/wrong etc. serves as a hindrance to our vision.
Hence, now it is time that we begin to recognize that they are far more "mistakes of society" than "mistakes of nature". We need to reconstruct ourselves for the purpose of coming to see, appreciate, and understand the value of human gender, sex, and sexual diversity. It has now become for us as a society and nation, to start reforming our opinions regarding different genders.