Sex education in India is a highly controversial topic. It is also considered as an offense to Indian ethics and values and the belief that it might lead to risky sexual behaviour and vulgarity. A common matter of worry is 'everybody will talk about sex then'.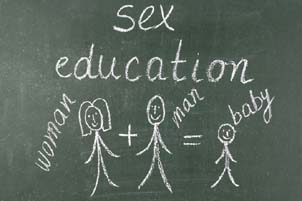 Thinking practically, every teenager has his/her own questions and confusions about sex and they have few reliable sources to look for answers. If they do not get answers from the right person and on right time, they might get improper advice from not so good sources like porn. Hence, if you too find yourself among confusions regarding sex, here is what you can do.
Firstly, never ask for sexual advice or concern to a fellow teenager, he/she might be having their own set of confusions. Look for advice from parents or any teacher whom you have an understanding with.
Many teens find it awkward to "talk" about sex. If you are too one of them, then go for age-appropriate books, articles and videos on the same. Just make sure the sources are authentic and are doing so for the sole purpose of education and not entertainment.
If you're thinking of talking to your parents try to keep it casual. Don't make talking about sex a special, solemn occasion. It would be easier to discuss sex when your parent and you are occupied doing everyday tasks such as cooking, washing the car or walking the dog etc.
If you find it embarrassing to bring out the topic on your own, try using the cues around you. Romantic scenes in movies on television are good conversation starters. You can start by asking open-ended questions like 'What should I do if you find me in that situation?' A general conversation based around a hypothetical situation is an easy starting point, and gives both you and your parent a chance to express your thoughts and beliefs.