Art and fashion may be two independent entities, but their love affair is no secret and unlike most other same sex relationships – their relationship was surprisingly well-received by the social circuits! Now they (art and fashion) are a happy couple, often spotted walking hand in hand at fashion events and la-di-da gatherings.
Drawing strong inspiration from their love story, artist Hiten Noonwal decided to express his own sexuality through both art and fashion and the result we say is pure artistic bliss. Noonwal's art reflects his comfort level with his sexuality and translates as a strong tool of art activism.
Read on as Hiten spells it out in his own words…
On gender identities and sexuality –
I identify myself as a gender fluid artist. I'm not defined with one particular gender identity. This is because, 'Art, as well as the artist has no gender'. That doesn't mean that the artist is gender-less, instead, it's about how their narratives are no longer defined by gender. I see gender as the Universe; it's so vast and wide with so many options that you can't really contain it to a small scale. Defining this term is unique to each individual who identifies with it. The same goes for which pronouns they prefer to use and how they might choose to present their gender. In many of my artworks I'm a female and many others I'm male. I'm 'living in-between genders,' and I am comfortable with either male or female pronouns.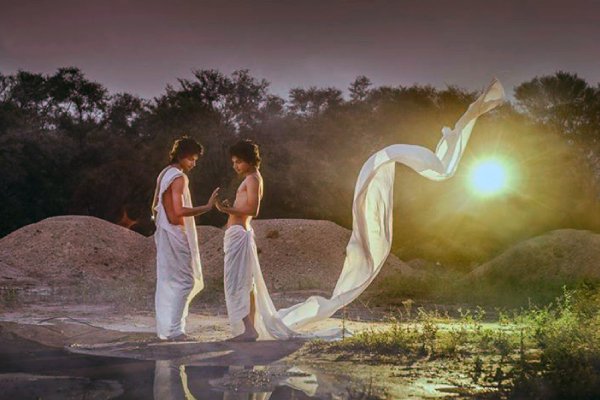 On taking the road less travelled –
I always knew about my sexuality ever since I collected my senses as a kid. During my school time, I thought I'm like the rest of my classmates. But they, the kids of 2nd grade at school started calling me a 'girl' and started making fun of me. That's when I first realized that people think I have a different identity and that I'm strange to them.
On the loneliness and depression he faced along the way…
In school, I was always left alone. My classmates used to say, 'You are strange, you are neither a girl nor a boy, we'll not hang out with you. We'll become strange like you.' They used to call me names – 50-50, hijra, it was humiliating and depressing. There was no one to support me. Not even my teachers. That was when I started expressing myself through paintings and poems. While I sat alone beneath a tree in the school playground, during the games period and lunch time I would just paint. That's how I took to art. Later in 12th class, my teachers started appreciating and supporting my art. I started participating in inter - school and other creative competitions. And I'm glad that I could win those. I then went on to study fine art for my bachelors. From there on I started expressing myself through self-photography and performance art. Fashion has found its way in my artworks since I joined NID, M.Design and Apparel design.
"I express my daily life in my artworks. I want the world to be a place where everyone is treated equally despite their sexuality and not be discriminated on the basis of their orientations and gender. Using my own body as a medium and using various techniques of photography, make-up art, costume design, fashion styling and performing arts; I try to raise a voice against inequality and abuse" – Hiten Noonwal.
On art activism and translating his angst into art –
We live in a world of physical identities; if your body and soul are a rare combination you are stamped with slangs like hijra! I am trying to change that with my work. My work speaks about gender equality, gender fluidity, feminism, sexuality, abuse, humiliation, depression and self-acceptance in a sensitive and inclusive way. This probably stems from the fact that my own identity was not accepted. My art helps me cope with the depression and humiliation I face every day. It feeds my soul, it makes me content and brings me to my full potential.
A word of advice for those struggling with their sexuality and gender identities –
Some people are sure of their sexuality and sexual orientation as teens while others are not. For gay teenagers; the journey to self-discovery, to accept their sexuality and to come out is far more difficult, because our society is hardly accepting of them.
I however insist that self-acceptance is key! The moment we accept ourselves and our own happiness; peace embraces us with a big warm hug. We feel proud of ourselves, our self-esteem grows and we don't feel alone anymore! The world becomes a better place and we love ourselves for what we are. This world is equally yours as it is anyone else's. There is nothing wrong in being different. God made us all perfect. If society doesn't give you respect, raise a voice!