As you teens gear up to set foot in the world outside school and start this newest chapter of your lives, you need to equip yourself well with self-confidence, new friends and arm yourself with a cool social quotient!
Well, here are five surefire ways to be cool and confident while you also build healthy social relationships…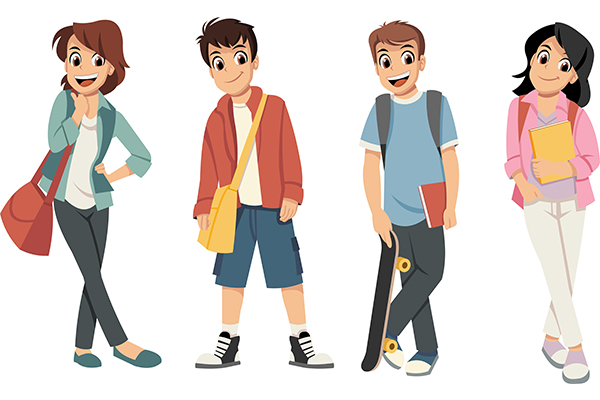 Join volunteer programs
Let alone the happiness of helping out and making a difference, volunteering is also a super cool way to meet like-minded people! Joining a volunteer group will not only give you the confidence to take charge and be responsible but will also help you maintain good mental and emotional health.
So go ahead, find something you believe in and fight for it.
Support a cause
Youth's involvement in community activism is extremely important. It is so important for the young ones of the country to have an opinion on everything that matters and to have the right to express how you feel about it.
So go ahead and be as opinionated as is healthy! Join a community that works to achieve something you believe in and watch it work wonders in your favor. From developing communication skills, to learning to work in teams; you got nothing to lose!
For every candle you will burn and for every march you will participate in will contribute to build a better world that you will be proud to call your own!
"In order to have a fulfilling social life and make meaningful long lasting friendships, it is essential to step out and meet likeminded people. By meeting new people you learn to explore and expand your circle. As human beings we do not live in isolation and do need our social groups as they do form a part of a larger support system. Developing social skills helps us thrive in society, form healthier relationships and interpersonal interaction, valuing people and their ideas and in turn discover ourselves through it all" our in-house psychotherapist Sheena Kalia says!
Be a part of health groups
While you work hard to up your social quotient, to be socially up breast and all that you must also make sure you take good care of your personal and physical health.
Joining a cycling or a running group might just be the right thing to do. While your groupies will keep you inspired to keep at it without giving up, the network of friends you will build along the way will only come in handy.
Pursue what you love
It doesn't have to be anything, everyone else is doing. Doesn't have to be the coolest gig in town that everyone is heading to! It could be anything you love; dance, theatre, book clubs, music gigs, concerts.
Just make a point to pursue whatever it is that you enjoy. Pursuing your interest areas or hobbies can have umpteen benefits. It keeps you creatively invested and that can really help you blow of some steam.
Keep yourself aware
While there is no need for you to fit in, you also don't want to feel like an outcast at any point. This is when social media actually becomes a boon. Social media allows you to be aware, to follow organizations and causes that you believe in and keeps you updated with what's happening around the globe. It can make you feel connected and a part of something that is larger than yourself.
How amazing is that!