Dates can be a nerve-wracking thing, but they can also be really enjoyable. If you are going on a date with someone you are really fond of, then you'll want to make a great impression on your first date. All you have to do is to plan a date that allows you to shine, have fun being yourself, and make an impression at the end of your date. If you're wondering what to do on a date, there are quite a few points to keep in mind to ensure that both of you have unforgettable experiences: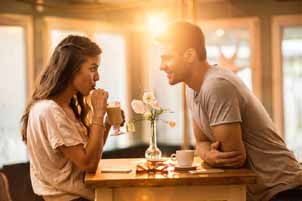 Choose the right place
Selecting the perfect place for a first date can be tricky. At times, the perfect place warms up your date and take it to the next date, or it can end your date midway. The place you choose has a lot to do with your age and also your hopes out of your date. Like, cafes are perfect because you can evade the pressures of impressing or worrying about what to do if the date goes wrong, or worse, your date mate is just way too dull.
Dress appropriately
Dress depending on the location of the date, as well as what you plan on doing together. Girls honestly like it when guys dress formal (this may be a super idea if you plan on going on a dinner date).
Share more about yourself
During a date, it is very important that both individuals get a chance to tell more about themselves. This will make both of you more relaxed around each other, as well as help you decide if you want to take the relationship further or not. Don't be anxious! Tell about your family, your interests, even your classes as this is your chance to shine!
Be generous with your compliments
Praising not only shows that you are interested, but it also makes you feel so much more assured about yourself. Observe anything that's worthy of a compliment? Like you may say, "So I was looking at some of your Facebook pictures, and really liked this one!" Believe me, if he/she really likes you, he/she'll find it extremely cute. Everybody loves to hear good things about themselves, especially from someone they're out on a date with.
Be yourself
Now the most important tip of all: be yourself. Remember, you want this girl/boy to fall in love with you. You'll probably feel very nervous throughout the date, but trust me, the other person probably feels the exact same way. Don't try to influence your date by acting like you are someone you're not. Not only that, but you'll have a much better time if you're able to relax and just be you.
Watch out for your body language
Behaviors and etiquette aren't just a way of letting the world know you know how to conduct yourself. It's also your way of making your date know that you respect them. Watch out for your eye contact, try not to fidget, stand/sit straight, etc. It is important to remember that body language is not only a mirror image of your confidence but also a projection of your self-esteem.
Most of us don't spend much time thinking about the first date. You just talk and hardly ever do something more than that. The very first date will decide the possible fate of the relationship and the rest of your life!