"Any fool can be happy. It takes a man with real heart to make beauty out of the stuff that makes us weep." Clive Barker, Days of Magic, Nights of War.
The above may be just another quote on rejection but it perfectly sums up the life of a man who turned his adversity into an opportunity. Himanshu Shady is someone who not only survived parental rejection (his father chose to walk away from the family when Himanshu was a young boy) but also turned his suffering into a beautiful children's art project.
Himanshu learnt to deal with the wounds that his parent's separation had caused, with much heart and art. His art projects; Bombay Underground that supports independent publishing and the Dharavi Art Room, where he holds art classes for the underprivileged kids from Dharavi make a beautiful survival story about dealing with parental rejection.
Rejection they say can be a blessing in disguise; quitting a tough job can lead to a dream job, a break up can lead to your life partner. While that is largely true, how do you deal with rejection when it comes from a parent, and for no fault of your own! Here is Himanshu's story of surviving parental rejection in his own words…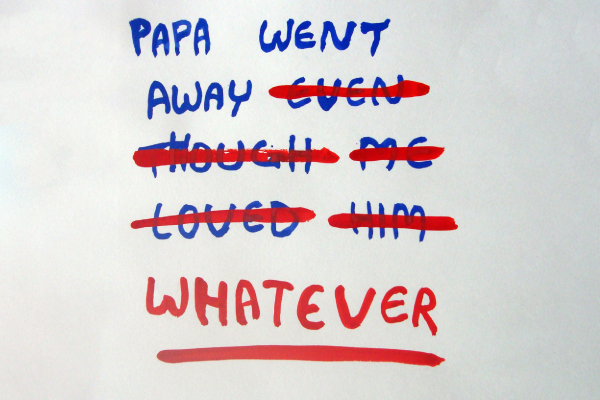 Putting the art in heart
Art can be therapeutic, and a great medium to vent pent-up feelings. Himanshu, who was always good with drawings, pursued Fine Arts from the JJ School of Arts, Mumbai. "Some of my art work still has those references because the vacuum still exists and it keeps resurfacing in my work. Even though it's not exactly a painful memory anymore, I don't think the incomplete feeling ever goes away. However, what is nice is that one learns to deal with it," he says.
Channeling anger
It is natural to feel angry when we feel dejected, and while you must not bottle your feelings, it is important to know how to deal with them. Himanshu agrees; "I am a conscious citizen of our country and am angry about things that are wrong with our system, but I keep that side of me outside my student's life. I try to channelize my anger into constructive things like my art. May be the fact that I chose to teach kids has something to do with what was missing in my childhood, so maybe that's the good that came out of it."
Uprooting and leaving
There is nothing more painful than being uprooted from one's home. Himanshu tells us; "I spent my entire childhood in Vasai but the place had so many memories of my father that we've just not gone back. Even though I like the peace and greens of Vasai we never went back because the people there favored him. So I had to uproot myself and move away. Once my father left we had to leave home because of the court's notice and because we weren't that economically strong. My mother was left alone to take care of us. We were isolated as a family."
The shadow follows…
Rejection is a part of growing up but when it comes from a parent and its shadow follows you around – "People treat you badly because you come from a different background. So you tend to find a different space to escape into and eventually that space becomes your whole world. Any human being tries to find a comfort zone. Once I found that place in my work it gave me the positivity I needed.
People made us feel that we were not like other kids, and I'd like to believe we turned out better if not like others, not that anyone is bad. So the shadow of my father's doing followed us and influenced how others treated us. But that is what I believe made me inclined towards what I do now. So maybe it doesn't totally cure this impact of a messy childhood but one finds ways to deal with it like I found mine." Himanshu quips.
Friends were family were friends
They say when we lose something, we are meant to find something better. With that faith intact, Himanshu found some good friends along the way. Speaking fondly of them, he says; "I must point out, what I missed in my personal family I found in my other family, my friends, who have all helped me along the way. So I was really lucky to find this extended family that was different from what was given to me."
Namesake
If letting go is important then that is precisely what Himanshu did with his father's name. "I make up stories about my second name. I don't use my father's surname because it is just a reminder of so many negative things. Plus I don't know the language or culture associated to that name. In fact people from that sect have bothered us so I just don't have positive memories attached to it. Earlier I was uncomfortable telling my story, now I have come to terms with it."
On Dharavi Art Room and Bombay Underground
The lack of a father figure and positive influence in his own life drives Himanshu to fill that vacuum in his student's life, with lots of love and art therapy. "With my students from the Dharavi Art Room, I make sure they get the exposure through us and meet the people that teach them something. With this Art Room I'm just trying to create a space where we all can learn and share something. I don't know if I'm making a difference but the fact that they come here without the pressure of any attendance means that they are having a good time so I hope that I am a tiny factor that will affect them positively"
"Bombay Underground (BU) is active in terms of its association with people. We have rented a space in Dharavi so it has become a nice entity of its own. Initially it was pretty irregular, considering my own life has been irregular. But BU is still into independent publications. So a lot of people dealing with their own troubles can vent out, because that space is always open through Bombay Underground," Himanshu concludes.