I never gave much thought to how I looked. Just pulled out an old dress or top to wear for parties. Wore any random pair of shorts for movies and lunches. As did everyone else, until we went to Grade 9!
Till Grade 9 everyone was friends with everyone, except for some occasional spats. No one was really bothered with looks and dressing up. But as we stepped into Grade 9, people suddenly became conscious and competitive about their appearance. They started working out and started dating. My group of twelve (girls) had always stuck together, through thick and thin but with time, the group started getting thinner. No, we didn't go from being twelve to seven. But my friends' waists shrank to a 26. Their legs were skinny as bones. They wore clothes that highlighted their curves. And they barely ate. What used to be a heavy lunch became just a few sticks of carrots and cucumbers. In the beginning, I paid no attention to it, not wanting to give up on fabulous food due to some fad diet. And I just assumed it would pass, since I was dating this guy anyway, and he seemed to like me even though I weighed more than the others. I couldn't have been more wrong.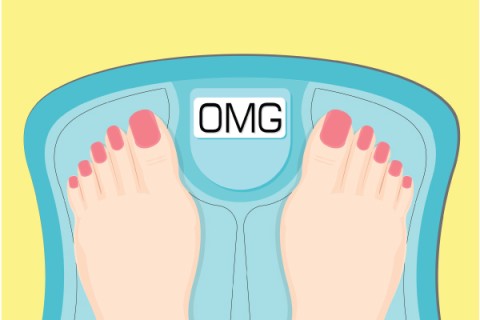 I noticed my gang huddling up and whispering while looking in my direction, more than once, this particular day. Wondering what was wrong, I approached them. They exchanged uncomfortable glances, before one friend, A – cleared her throat and without making eye contact mumbled, "You aren't thin enough to be in our group." Yes, those were the exact words that came out of her mouth. As I stared at her in disbelief, another one, T, clarified, "We are all under 45kg and our waist size is not bigger than 27. Since you are not the same and do not look as good as we do, you cannot be friends with us." My eyes brimmed with tears of rage, when T added, "But if you lose 10 kgs in the next two months, we will think about it…" As they turned and strolled away, I stood there, aghast.
It was a tough decision to make, but one would rather lose weight than lose friends, right? I couldn't confide in my mum because she'd simply call up the other mums and yell at them, which would result in my friends deserting me anyway. So I quietly began to make changes. I'd skip dessert at family outings and drastically reduce the amount of carbs I ate. Even gave up my favourite food. I started eating only salads and eventually started skipping them altogether. Simultaneously, I joined Zumba classes, started jogging each morning, worked out twice a week. I was determined to be like my friends as quickly as possible. And gradually, I started noticing changes. My dresses were now loose, my tops literally hung on me, my pants and shorts became loose. I weighed myself every week and saw it fall slowly but steadily. After three months, I dropped 10kgs, just about touching 46 on the scale.
One day at school, during lunch, A finally said, "Hey, you look good today! You've lost a lot of weight." The others nodded in agreement. Was I finally gaining acceptance? "Therefore…" A continued, "We have decided that from now on, you are officially a part of our gang." I breathed a huge sigh of relief. Smiles were exchanged, and I went for my post-lunch class brimming with happiness.
There was this boy who studied Economics with me, G. We had been friends all along, but over the course of time, we became closer and soon I was pretty sure that he had a crush on me. One day he came to me blushing and said, "S, you are the most gorgeous person I've ever set my eyes upon. I really like you. Will you be my girlfriend?" It took me not more than a moment to accept but deep down I felt overjoyed at this 'social acceptance'. Things began on a great note, I was invited to every lunch, party, night out, and house of the girls in my gang. I did not have as much time to exercise now that we were almost in the 10th. I started stress-eating junk. Pizzas and cakes were scoffed down several times a week. I didn't realize it at the time, but I was most definitely gaining back all the weight. And then one day, this brand new dress, that I'd bought some weeks ago, didn't go over my head. I ran to the mirror, and noticed how fat I had become! I started panicking and wondered if my friends had noticed. I gathered all my courage, and I asked them so, in our WhatsApp group. Maybe it was the absence of awkwardness because it wasn't a face to face conversation, but my girls didn't hesitate to confirm my suspicions. However, they referred to me as "Fatty." Not meanly, but almost endearingly. Perhaps they still wanted me in their group, and didn't mind how I looked? I was relieved.
Life carried on as usual, even though people occasionally poked fun at me. It was not until a year later, on the cusp of graduation, that I overheard a conversation between A and G. "Honestly, I liked S better when she was thin. I'm thinking of breaking up with her now," said G. "Oh yes," A agreed, "We only kept her in the group because with her around we all look thinner…" Devastated, and infuriated, I ran in the other direction. Later that day, I found myself reflecting on all that had happened, all that I had done for their toxic friendships. I was angry with myself for being so gullible. Was it really worth it? Anger soon turned to sadness, and then to determination. I was determined to cease interacting with my so-called "gang," and not care about what people said about my appearance.
Right now, all I'm going to do is make myself happy, no matter what it takes. I'm going abroad soon, I'll surely find friends who genuinely appreciate me for who I am and a guy who loves me regardless of my flaws. I guess it's time to let go, and move on.