In olden times women were highly respected, in fact they were treated as goddess Laxmi. I can recollect a famous saying by Margaret Thatcher who served as Prime Minister of the United Kingdom for 11 years, "Any woman who understands the problems of running a home will be nearer to understanding the problems of running a country." But, unfortunately with passing time drastic changes are observable. There is an increase in violence and crimes against women. On every 11th of October International Day of girl Child is observed. In today's modern era too, we all are bound to observe such days to eliminate gender abnormalities, and spread awareness. In order to keep a track of situation, the coming generations mainly teenagers must be taught to respect individuals be it men or women equally.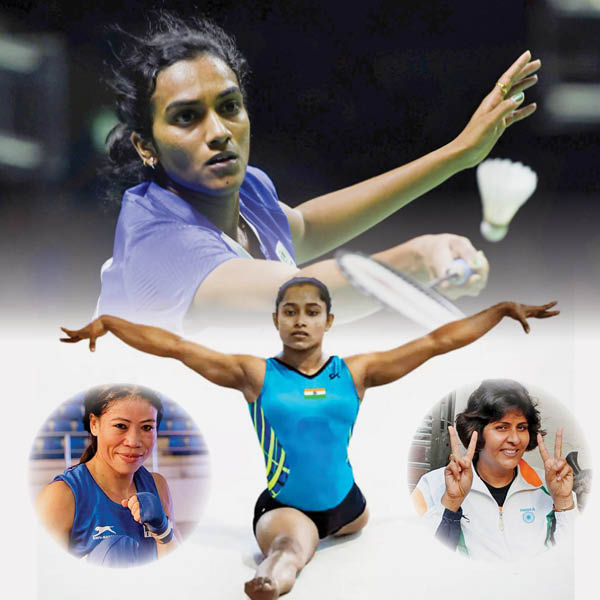 So here are the stories of 4 Indian Sports women from whom every teenager can learn some or other things:
Deepa Malik
She is undoubtedly an epitome of strong will power. What teenagers can learn from her is always stay brave and believe in oneself. She is paraplegic (chest below paralyzed), and strong enough to cut down all social norms. Deepa is the 1st Indian Woman ever to win a medal at a Paralympic Games. And with lifetime personal best performance of 4.61 metres she has won a Silver Medal in Shot put F53 category. She was honoured by Arjuna Award, and she has also been conferred by prestigious Padma Shri award. Till date Dipa has won 58 national & 23 International medals across all disciplines.
Dipa Karmakar
One should always look at the positive side, this is a famous saying. Dipa Karmakar is an Indian artistic gymnast who literally followed this. Dipa started practicing gymnastics when she was only 6 years old. She had flat feet which affects performance and is an undesirable physical trait in a gymnast. Amazing fact is through constant practice and training, she was able to develop an arch in her foot. Dipa became the 1st Indian woman to win a gymnastics medal in 2014 Commonwealth Games. In the vault event of FIG Artistic Gymnastics World Challenge Cup, she became the first Indian gymnast to win a gold medal at a global event.Dipa has also received Rajiv Gandhi Khel Ratna Award, Padma Shri, which is the fourth highest Indian national honour and so many more such awards. Teenagers, never lose hope and remember like Dipa, always believe in yourself and focus on your strengths.
Mary Kom
MC Mary Kom is a sporting legend and what teenagers can learn from her is patience & perseverance. Most of us might not even dream what she has achieved. Kom faced so many struggles since childhood and as a teenager too. But she never quit and juggled all her duties. And today after facing all obstacles strongly she is the most successful boxer in the history of the World Championship among both men and women. And she is able to set amazingly new standard in amateur boxing. She has also received various awards like Padma Bhushan (Sports), Arjuna Award (Boxing) & Padma Shri (Sports) and many more. Indeed she is Magnificent Mary.
P. V. Sindhu
The queen of badminton is another daughter of India who is surely a motivation to teenagers. And what a teenager can learn from her is how she manages to spread positivity, and stay calm. As she herself started playing badminton at the age of 8 years only. She won the doubles titles at the Sub-Junior Nationals in the under-13 category, she won the gold medal in under-14 category. Another achievement is at the age of 17, she won the Asian Junior Championship. She has recently become the first Indian to win a gold at the Badminton World Championship. Sindhu has constantly proved her mettle as an ace badminton player at every stage.
So to subtly end it all, I am adding an inarguable quote from Diane Mariechild, "A woman is the full circle. Within her is the power to create, nurture and transform." So to all the teenage girls out there never underestimate yourself and power within you.