Teenagers benefit in more ways than one by indulging in hobbies and extracurricular activities, whether it is music, sports or arts, and craft. As teens spend most of their time at school and coaching, the way they utilize leisure time makes a difference. And hence hobbies can play a vital role in shaping one's lives and careers.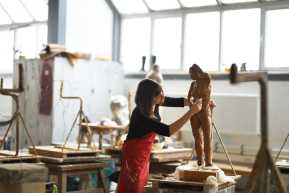 Why are Hobbies important?
Hobbies are a platform to pursue your interests, which in turn will benefit you in finding your passion, developing new life skills and also in having a healthy mind and body. Rather, hobbies can sometimes be life-defining moments too. Take Taylor Swift for example, who used to write and sing songs at a very young age, and now she's turned into a mega-icon doing concerts, topping music charts and rocking the world.
Here are a few benefits of hobbies for teens:
Skill learning
Hobbies provide us with opportunities to learn and develop new skills. For instance, a hobby like photography can teach you about the technicalities of the camera, editing and enhancing the quality of a picture, design, lighting, and much more.
De-stress
When you engage your body and mind in doing something that makes you happy, it reduces stress and anxiety levels and also detoxifies your mind. This, in turn, results in improved focus and better lifestyle.
Building a social circle
When you engage in a hobby, you get to meet and interact with different people having similar interests. These acquaintances may lead to strong connections and lifelong friendships.
Learn time management
While pursuing a hobby, you utilize your free time in a better and constructive way. Your hobby keeps you busy and makes you conscious about the vitality of time. Time management leads to a disciplined life.
Handling pressure
You will face lots of ups and downs in life, and so is the experience while pursuing a hobby. When you pursue your interest, not everything might go smoothly or in the way you want it to be. These uncertainties are sure to occur but you'll have to learn to take them positively and work on your shortcomings.
Hobbies transform our lives in several ways. They can teach you about adversities and also develop new skills. It supports our emotional well being and improves physical health too. Hence, hobbies are helpful in promoting our overall wellbeing.