Everyone uses different languages to express their emotions. I have seen many clients who use the word "phobia" to describe ordinary fear as they are not aware of the difference between fear and phobia.
Fear and Phobias are almost similar though. A fear is an emotional response to a real or perceived threat, while a phobia is an irrational fear of something that's unlikely to cause harm.
Fear is a normal and healthy part of everyone's life. It plays an important role in keeping you alert from entering harmful situations and helping you decide when to get out of situations that are not best for you.
However, a phobia turns a normal fear into an irrational one which takes control over your mind. There are a few people who have some phobias and they realize that their fears are irrelevant but still they don't have any control over it.
Fear can also become a phobia when the anxiety as well as the mental and physical response starts to interfere with everyday life.
A person who has some kind of phobia might experience a fast beating heart, breathing difficulties, sweating, an overwhelming need to flee from the phobic situation, and sometimes they have a fear of death.
How the Responses are different for Fear and Phobia :

Let's take a common situation where "Roohi is scared about flying in an airplane"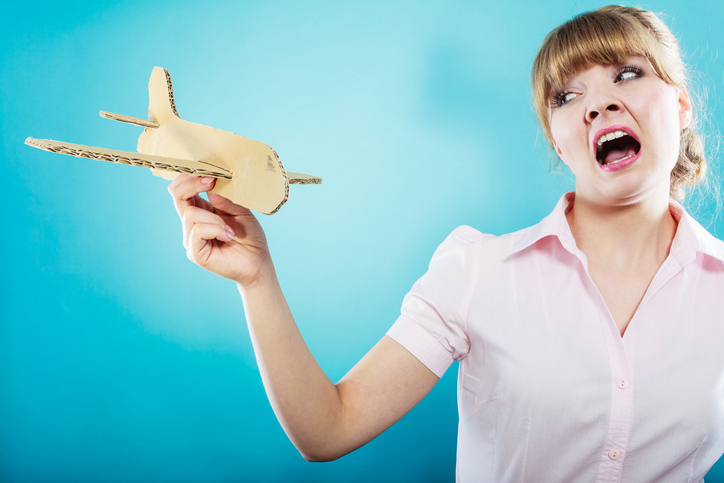 When you have a fear of something, you always tend to avoid that particular thing or situation. So here Roohi always gets anxious when she has to board a plane. Sometimes she takes medicines to avoid this anxious feeling or sometimes she takes some drink before the flight that helps her to manage her fear while travelling. She prefers to travel by other means except for flight, but when it's necessary she takes these precautions and travels.
This situation will differ if Roohi has a phobia of flying. The responses will be extreme. If Roohi has to board the flight when she has a mild phobia of flying then she might feel sweaty, shaky or she might cry out of fear and turbulence might make it worse. The whole experience can be miserable.
If Roohi has a severe phobia of flying then she won't be able to board a flight at all. She will cancel trips and vacations if she has to travel by flight and don't have any other transportation options. She may be unable to pick or drop any of her family members or friends at the airport. She may become anxious from the noise of planes flying in the sky.
Getting help :

Phobias have individualized symptoms and severity and hence cannot be self-diagnosed. Here in this article, we have discussed some guidelines for you to decide when to seek help. The symptoms mentioned here may vary from person to person.
After reading this if you feel that you may have a phobia then please seek help from mental health professionals i.e. either psychologists or psychiatrists. They will help you with accurate diagnosis and treatment.