We fail, we make mistakes, we get hurt but with all this, we learn too. Yes, when we fail or when we make bad choices, we feel terrible, frustrated and at times, demotivated. But we can't really avoid it.
As much as our society embarrasses us about failures, the truth is, without failure, we cannot achieve anything.
Only after we've succeeded, we look back upon the hardships we experienced, the pain we experienced during our failures, but we've learnt from them and we'll be prepared to not let that happen again.
Whatever I'm saying here is surely easier to say than actually experience it, but the fact of life is that no matter how many failures you experience, people only care about the successes, how you've overcome them my bouncing back and stayed confident throughout the ordeal.
Our mind only sees what we want it to see. If we only fixate on problems in front of us with the fear of failure, we won't really be able to find a solution for it.
It will fixate on the problem and failure, making us lose our confidence and self-esteem. However, when we flip our way of seeing the failure as something negative and start to see them as stepping stones to reach our goal, our mind will only see positivity and start functioning towards our growth.
As said by J.K.Rowling, "Some failure in life is inevitable. It is impossible to live without failing at something unless you live so cautiously that you might as well not have lived at all—in which case, you fail by default."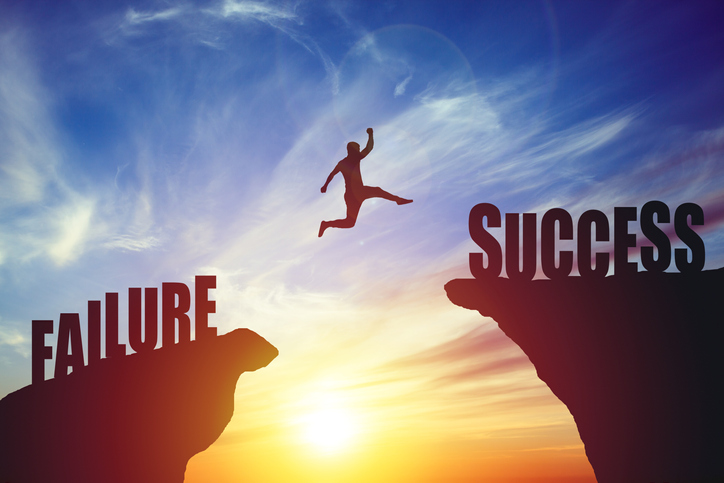 Here are a few ways which will help you bounce back from failure and continue to follow your goal with the same spirit –
Let's be honest here. Experiencing failure sucks. When you face failure, it takes a major hit on our self-confidence. Sometimes it's due to something you did wrong, sometimes things just don't end up in your favour no matter how hard you try. However, accepting failure is very important. Acceptance will help you to see the damage and prepare you to avoid such a situation in the future.
Practice grounding techniques
Grounding techniques help you to calm yourself when you're overwhelmed with things going out of control in front of you. Simply take a deep breath for four seconds, hold the breath for four seconds and exhale for four seconds. Grounding techniques will help you maintain your calm and think appropriately without anxiety and fear clouding your judgement.
Try to analyze the reason
Look for the reason what led to this failure. The reason could be something you didn't anticipate. Analyze the situation, try to separate the trouble-causing elements away for a successful outcome in the next try.
Everyone makes mistakes, you're only human. Regardless of how grave or silly the reason was for the failure, don't give yourself a hard time. Only you can love yourself like no one else ever can.
Take efforts to heal your injuries
Sometimes the failures can cause scars -- either mental or physical. In such a situation, give yourself time to heal. In case something you're working on is affecting you a lot mentally, take a break. that will not only make you feel more positive, but it will also result in a better outcome.
Use positive affirmations
The only way you can feel positive is if you're surrounded by positivity. Keep your space surrounded with posters with inspiring quotes, sayings by successful personalities, that can help spark positivity in you and help you feel optimistic.
When failure surrounds you, it can cloud the vision and force us to only see the negatives. However, in such situations, try looking for positives, and be thankful for them for they will help your motivation get the strength it needs to move forward. Express gratitude for those positives.