As we are living in the Big Data Era, Data Science is becoming a very promising field to harness and process huge volumes of data generated from various sources.
The Big Data Era has made Data Science to become an extremely promising field for young aspirants and for those with a keen interest in computer science.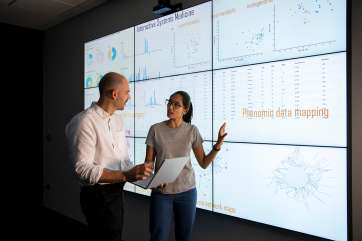 What is Data Science?
Data Science is a discipline which is consisting of studies related to statistics, mathematics, programming, computer science and so on. Data science requires several elements, techniques and theories including math, statistics, predictive analysis, data modeling, data engineering, data mining, and visualization.
Data Scientist understands the exploratory analysis to discover information from it and uses various advanced machine learning algorithms to identify the occurrence of a specific event in the future
So, Data Science is primarily used to make decisions and predictions making use of predictive causal analytics, prescriptive analytics (predictive plus decision science) and machine learning.
How to be a Data Scientist?
To become a data scientist, you can opt for a Bachelor's degree in Computer science, Physical sciences, and Statistics. The most common fields of study are Mathematics and Statistics (32%), followed by Computer Science (19%) and Engineering (16%).
After your degree program, you need to complete a Master's degree or Ph.D. You can also undertake online training to learn a special skill like how to use Hadoop or Big Data querying. Therefore, you can enroll in a master's degree program in the field of Data Science, Mathematics, Astrophysics or any other related field.
The skills you have learned during your degree program will enable you to easily move your steps for data science.
Skills needed to be a Data Scientist?
Technical skills apart from the education required for this course are -
Python Coding

Hadoop Platform

SQL data coding

Apache Spark

Machine Learning and Artificial intelligence

Data Visualization

Unstructured data
Along with such technical skills you need to acquire some non-technical skills like Communication, Business Acumen, Intellectual curiosity and Teamwork.
Job profiles for data science courses -
Data Analyst
SQL, R, SAS, Python are some of the most suited technologies to learn for data analysis. So, certification in these can easily give a good start to your job applications. You should also have good problem-solving qualities.

Data Engineers
If you are interested in a career as a data engineer, then technologies that require hands-on experience include Hive, NoSQL, R, Ruby, Java, C++. It would also help if you can work with popular data APIs and ETL tools, etc.

Database Administrator
Some of the essential skills and talents of a database administrator include database backup and recovery, data security, data modeling, and design, etc. If you are good at disaster management, it's certainly an advantage.

Machine Learning Engineer
Firstly, you should have a sound knowledge of some of the technologies like Java, Python, JS, etc. Secondly, you should have a stronghold of statistics and mathematics.

Data Architect
A career in data architecture needs knowledge in data warehousing, data modeling, extraction transformation and loan (ETL), etc. You also must be well versed in Hive, Pig, and Spark, etc.

Statistician
A statistician has to have a passion for logic. They are also good with a variety of database systems such as SQL, data mining, and the various machine learning technologies.

Business Analyst
Business analysts act as a link between the data engineers and the management executives. So, they should have an understanding of business finances and business intelligence, and also the IT technologies like data modeling, data visualization tools, etc.