Since last few decades, there is an exponential growth in the field of Artificial Intelligence (AI). Artificial Intelligence is a sub-branch of Computer science, is the science that helps develop computer machines that impersonate human intelligence. Thus, these machines are able to visually perceive things, recognize and differentiate speech, make decisions, translate between languages and much more. It has the potential to change every sector as and when needed. From something as simple to Agriculture to Healthcare and defense, it has the potential to do it all.
With more people being attracted to the idea of Artificial Intelligence, people are now seeing a potential career in the field of AI. However, before you can do so, it is always a good thing to evaluate the scope and future of AI. The scope of AI in India is very significant as the ultimate aim is to create computer programs that can manage different problems and provide goal-oriented solutions efficiently. Hence, there is a scope for computer vision, game development, speech recognition, robotics, and language detection.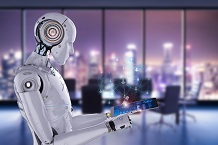 Educational requirement before opting AI:
- Mathematics, extending to mathematical logic. Particularly, topics such as algorithms, algebra, probability, calculus, and statistics.
- Sciences, mainly physics also plays a crucial part and also neural nets, graphical modeling, cognitive science theory, and robotics.
- Some knowledge of biology, mainly related to physiology and psychology is necessary
- The theory of computer science and how it actually works.
- Programming languages and coding is an complete must. It is important to learn at least 2 to 3 universal coding languages which is used for machine language coding; like C++, Java, and Prolog to name a few.
If you have a sufficient background knowledge related to AI, then the next obvious step would be to figure out where to pursue a course/degree in AI. If you want to study abroad, then there are an umpteen number of universities in the US. However, if you want to do the same in India, then IIT Madras, IIT Kharagpur, and IISc Bangalore offer the same courses.
Some institutes in India which offer courses in Artificial Intelligence are:
The career domains that include AI are many and vast. Some common domains include:
- Private and Public organizations.
- Education, both primary and advanced.
- Advanced Healthcare facilities.
- Government agencies and committees related to research.
- Military.
Various roles available in these sectors include:
- Software, Electrical and Mechanical engineers, developers, and analysts.
- Research scientists
- Manufacturing and maintenance engineers.
- Computer engineers, Game programmers, developers and algorithm specialists.
- Surgical technicians
Artificial Intelligence is being utilized by more and more companies to create products and services at breakneck speed. Thus, in near future, Artificial Intelligence is going to outperform human performance by leaps and bounds. With a rich range of talent in the sector of computer science, data science and the related fields, India is making its mark in the AI world market. With a more success rate, more talent will eventually be pooled into this trendy field in the country and we are already on our march to raising our rank in the AI competition!