Careers in Astrophysics and Astronomy are both research-oriented and related to Mathematics, Physics and Quantum Physics. To pursue a career in these streams, you will need to study BSc, MSc in Physics after studying 12th Science with PCM.
Careers in Astronomy & Astrophysics (A&A) can be broadly divided as Theoretical or Observational. Theoretical research career in A&A typically involves doing a Masters in Physics, or Bachelors in Engineering or Technology with thorough basic knowledge in Physics and Mathematics, joining a suitable institution or university for a Ph.D programme in A&A, following it up with one or two postdoctoral positions and - finally - obtaining a permanent job.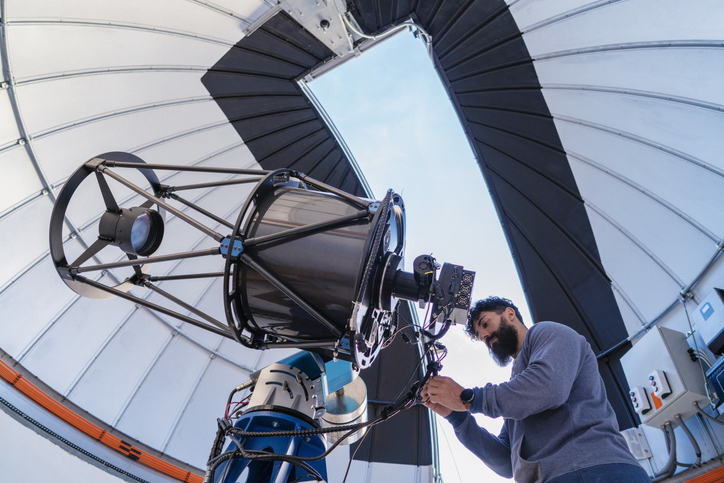 Among the leading institutes in our country which have graduate students programmes in A&A leading to a Ph.D, are :
Indian Institute of Astrophysics, Bangalore (IIA),
Indian Institute of Science, Bangalore (IISc),
National Centre for Radio Astrophysics, Pune (NCRA-TIFR),
Inter-University Centre for Astronomy and Astrophysics, Pune (IUCAA),
Physical Research Laboratory, Ahmedabad (PRL),
Raman Research Institute, Bangalore (RRI)
Tata Institute of Fundamental Research, Mumbai (TIFR)
Indian Institute of Astrophysics (IIA)
Inter-University Centre for Astronomy & Astrophysics (IUCAA)
Institutions like these are actively expanding into this area and will certainly encourage theoretical research in A&A :
Harish-Chandra Research Institute, Allahabad (HRI)
The Institute of Mathematical Sciences, Chennai (IMSc)
There are also several universities, which have faculty members working on A&A, not to mention the Indian Institute(s) of Technology.
On the observational side, the scope is somewhat wider because even students with Engineering degrees (or knowledge of computer systems and electronics) are also encouraged to apply for the graduate student's programme in many of the above places. For example, IUCAA takes BE and B.Tech students for its graduate school and allows them to do an M.Sc by research prior to doing a Ph.D.
The scope for Experimental Astronomy in this country is somewhat limited compared to theory, but this situation is likely to change within the next 5 years or so.
The key point to remember is that A&A is a branch of Physics and you need to have a strong foundation in Physics and Mathematics in order to pursue a successful career in A&A.
To summarize, how to become an Astronomer :
First, you need to complete your 10+2 examination under the Science stream, especially in Mathematics and Physics.
After that, you can join an undergraduate course in Astronomy. You can join for an honors/major in Physics with Mathematics as a secondary subject. Or you can pursue BSc with Physics / Maths in college nearby.
Thereafter, you can join a postgraduate degree course in Physics or Astronomy.
After completing a Master's degree, you can specialize in Astronomy leading to Ph.D.
Ph.D degree is compulsory.
You will also need to prepare and clear Joint Entrance Screening Test (JEST) For Ph.D Programmes in Physics / Mathematics / Theoretical Computer Science