For Manav, acting is instinctive. He might feel hesitant to act in jest in front of friends and family members, but switch on the camera; and the actor in him springs to action. He is 25 now, and started his journey to become an actor whilst in college by doing a couple of street plays.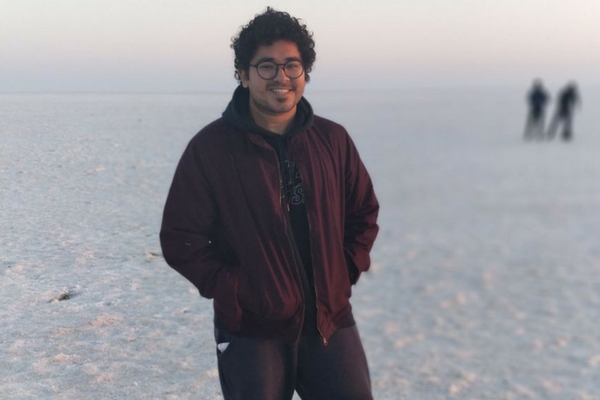 After graduating from college with a degree in Advertising, his fall-back option, he started acting in a play that revolved around child sexual abuse. "I wanted to do theatre first." Since the play catered to teenagers, most movements would be termed as "weird to look at it", but exactly that made Manav comfortable in his own self. The rehearsals proved to be an excellent ground for experimenting with his body. It was then for the first time that he acknowledged his physical presence.
The play didn't stage for another year, but Manav moved on. Meeting theatre director Omkar Bhatkar marked the turning point in his career. Thus began a furore of challenges where he was confronted with his own self. His next acting venture required him to act in a dhoti as he was playing the role of the mythological character of Karna. Five minutes before the play he got caught in a web of self-depleting thoughts such as "I do not look good enough" or "I have stretch marks on my shoulder." That immediately hit his self-confidence. However, in that moment, he reminded himself that he came to Mumbai to become an actor. He shifted the focus of his thoughts back to the performance. He said to himself.
"This is my first play, this is what I want to do"
"What matters is how I perform and not how I look"
"It is now or never"
"I am enjoying the play and I just want to perform"
With an alternate thought process in mind, Manav went on stage with confidence, and the play went off successfully. However, this posed another challenge, "I realised I need to be body positive," he says. Though he loved food, he found a way to work around his diet. There was no looking back for Manav after that. He has acted in several advertisements and films. He continues to enjoy food but does not forget to balance it out with exercise. Lastly, he keeps reminding himself that he is more than his looks.
If you have an inspiring story to share, send it to edit@teentalkindia.com. If you feel like you want to talk to someone regarding any issue, click on Teentalk Expert Chat on the Homepage.