Delving into the mind of a 13-year-old, Nishtha Juneja writes about body image issues a teenage girl goes through and her will to overcome them.
Day 1:
My hair is frizzy. Why can't it be straight? Ughh…I hate my body. I am fat and ugly, a complete waste of space. When I look at fashion magazines, all I feel is bad about the way I look. The only way to feel better is to eat, and sometimes I binge. But, I still like reading fashion magazines styling hacks. I'm sure everyone noticed how I paired the white skirt with the lace top. I particularly want Rihaan to take note of it. How I love him, only if he loved me back. But he loves Anisha. She is tall, slim, fair, and has lovely straight hair. No wonder she is playing the lead in the annual play, Aladdin. But I am also part of the production, playing Shehazade, a small but prominent part. That reminds me, I better learn the lines of the play. We're having rehearsals tomorrow.
Day 2:
Today was a mix of good and bad. The bad part was that some boys made fun of my weight and called me a fatso because I was too slow to climb the three-floored school building. The good part was that dramatics teacher called me a "laughing rose". What does he see that Rihaan doesn't? I may not be as thin and tall as Anisha, but I am certainly good on stage. I guess I should focus on the play more than what others have to say about me. But, it's not as easy as it sounds. When all of them gang up and start calling you names, it's difficult to stand up to them. Sometimes, I ignore them and walk away, but sometimes when I cannot get away, I feel TRAPPED! Not a good feeling…
Day 3:
Today was the worst day of my life. The absolute WORST. I want to DIE. Life has no meaning. I get humiliated every day because of my weight. Today after rehearsal, Anisha's friend pushed me and I fell on the ground. My skirt lifted and everyone saw my underpants. It was EMBARASSING as hell. The worst part was that everyone started laughing. I hate all of them. I hate my flabby arms and thighs. I am going to stop eating food. There's just no other way to reduce. Now, I haven't eaten anything after coming back from school; but as I am rehearsing lines for the play, my head is spinning like a table top. I think I should eat something, just a little bit of the chocolate cookies to make me feel better?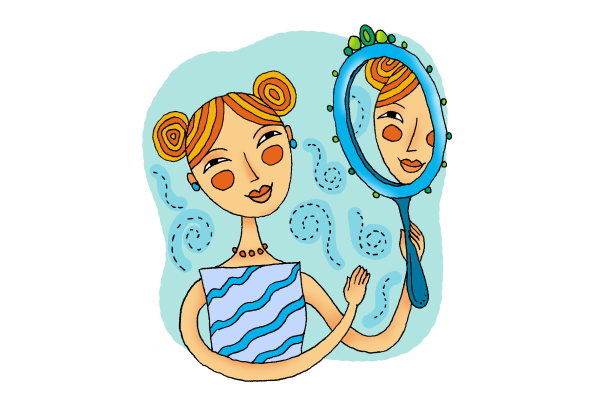 Day 4:
A miracle happened today. Anisha cannot do the play, and I am given the titular role to act because I am "confident" and my "speech is clear" according to the dramatics teacher. I was on the top of the world. I forgot all about the teasing and bitching, I forgot all about the heavy thighs and chubby hands, I forgot all about the humiliating jokes they laugh about. For a moment, I was unbreakable. Surprisingly, everything became wonderful even my frizzy hair and my heavy gait! Yaaaaaaaaaaaaaayyyyyy…
Day 5:
I want to not feel bad but I cannot deny what I am feeling. Today we were trying out clothes for the play and I didn't fit into any of Anisha's clothes. I felt embarrassed about my body, and felt like vanishing. One of the teachers has asked me to reduce. The other asked me to eat less to lose some inches. Don't I know all of these? Since, nothing fit me, all the girls started giggling and whispering. They also told the boys and they started their rant again. And, to my utter shock, Rihaan was also part of the group. Though he didn't participate in the teasing, he was still there, like a bystander, not doing anything. I felt hurt and cried a bit in the bus while coming back.
Day 6:
The play is tomorrow. I am excited and nervous. I am confident about my performance but I wonder if I will look attractive. The new clothes are lovely but I haven't really lost a lot of weight. Actually, I haven't lost any weight. I am still the same. Should I hate myself for being this way? There are numerous other qualities such as confidence and the ability to enunciate clearly, optimism and determination that are equally important. Is it okay to accept the way I look? Am I beautiful? Am I pretty? Am I worth looking at?
Day 7:
I was right. The play went off seamlessly without a glitch. Everyone, from friends to teachers, appreciated my performance. Also, at the end of the show, I heard a rumour that Anisha didn't participate in the play because Rihaan didn't want her to, apparently he feared that Jasmine and Aladdin would pair up in real life as well. Maybe the grass seems greener on the other side. Anisha's life seems perfect, but I would never trade it with what I have - freedom. And, of course, my new found confidence. As far as my relationship with food is concerned, we'd like to keep it healthy and casual (pun intended).