It's a lazy Sunday morning, and Kunal is sound asleep. "WE ARE THE CHAMPIONS, NO TIME FOR LOSERS, 'CAUSE WE ARE THE CHAMPIONS OF THE WORLD," erupts from the minuscule speakers of his mobile phone. Eyes shut, he finds his phone tucked under the pillow, and swipes, snooze.
After five minutes, "WE ARE THE CHAMPIONS, MY FRIENDS, AND WE'LL KEEP ON FIGHTING 'TIL THE END," one eye partly open and Kunal hits snooze again.
After five minutes, "I'VE DONE MY SENTENCE, BUT COMMITTED NO CRIME, AND BAD MISTAKES- I'VE MADE A FEW," Kunal opens one eye and hits dismiss.
Strangely, this line of the Queen's masterpiece always wakes him up. In a flash of seconds, memories of last night flood his mind. Kunal swipes left, right and centre to unlock his phone to find a slur of updates.
547 whatsapp messages, 74 Facebook mentions, 102 likes on an Instagram post and 10 Twitter replies.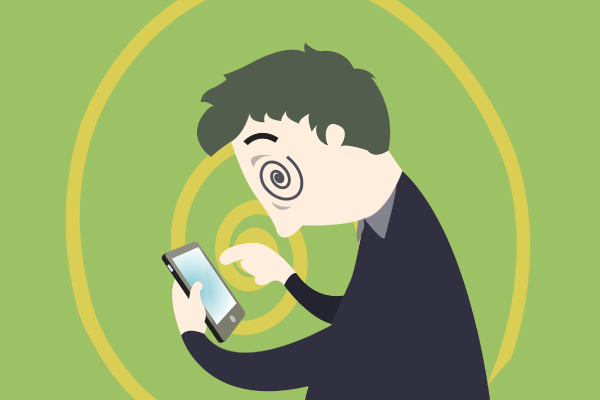 Half-intimidated and half-nervous, he opens these numerous apps to discover that "a lot" has happened in the party that he went for, and the one that he wasn't invited for. The highlights were:
Kunal's ex was found crying. Kunal has a picture with a broken door. Kunal wasn't invited to the after party.
Kunal scrambles out of bed with his eyes on the phone screen, stubs his toe and falls flat on his nose. Ouch! That hurt. Ignoring the glaring pain in the bridge of his nose, he breathes a sign of relief upon noticing that his phone's screen is untouched.
"IPhones are expensive," he thinks.
"Rahul's party was better than the one I went to."
"I'm concerned what others might think about the photo with the door."
"I need to check what the others have posted about the after party."
"I need to post a status declaring that I wasn't in a relationship with Mira."
As Kunal goes on with his day, tweeting, instagraming and whatsapping, he forgets all about his cat giving birth to kittens, his younger brother winning his first tennis match and his parents deciding to move to another city.
But, it is not Kunal's fault that he is engrossed with his phone. Kunal is in damage-control mode, trying hard to protect his reputation and not become the butt of all jokes. He checks his phone every two minutes for he fears he might miss out on an update from his friends. He gets anxious if his friends don't reply to his texts. His mood dips when he doesn't get enough likes on the FB post about his relationship with Mira. By lunch, Kunal was emotionally drained and had to sleep off the anxiety.
Kunal's mother wakes him, and urges him to get ready. They are heading out for dinner. Before changing his clothes, he looks at some of the notifications on his phone. His friends have commented rude messages on the FB status. Irritated and hurt, he throws the phone with enormous ferocity at the wall. Crestfallen, he goes in the hall to find his family all dressed and ready to go. As he sat in the car, he immediately slips his hand in his pocket expecting to take out his phone. But the phone is dead.
Finally he hears the chuckle of his younger brother who was still galloping about how he had to run across the court to hit the winning point, he listens to his parents talking about leaving the new-born kittens before shifting base to the new city.
"WHAT! We are leaving this city," shouts Kunal.
Everyone looks at him in disbelief.
"Maybe if we whatsapped and talked to Kunal, he would listen to us," his father chimed in. Ignoring his playful taunt, Kunal nudged his mother to tell her what the deal about moving was. And his family updated him about what he missed. Kunal was swept into the real world again by his family. For the rest of the evening, Kunal was in the moment and present in reality. It made him realize a few things.
"Not all friends on social media are your real friends."
"Family is important for love and support."
"It feels good to disconnect from virtual reality once in a while."