Much is said and written about substance and alcohol addiction. We are constantly warned against harmful habits and are asked to tread carefully in the minefield of addictions. But what they often forget is to warn us against the less-known behavioral addictions.
We may have given in to certain – seemingly harmless – addictions and not even know that we are indeed addicted! Well, it's time to take charge of ourselves and change that. Let's take a look at six possible behavioral addictions that may have quietly crept into our lives and got us without us even realizing it!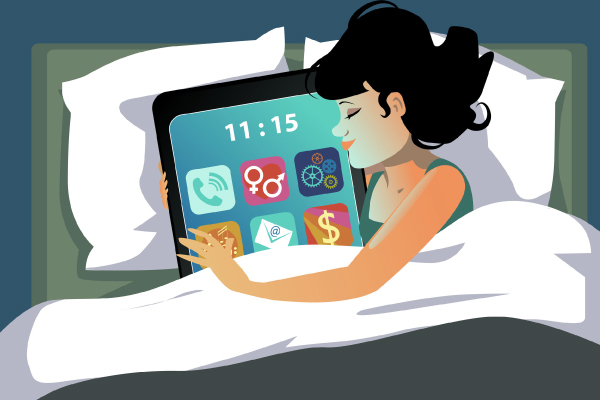 Phone
We live in the age of smart phones that are constantly being upgraded. The improved functionality of our devices is directly proportional to the likelihood of our addiction to it! Sure there is an app for everything today and the camera quality is ace, but if you have an unhealthy attachment to your device it's time to do something about it.
Red flags –
You suffer from sore and itchy eyes, blurred vision
You have been experiencing neck pain
You suffer from frequent headaches
You have been experiencing disturbed sleep
You are anxious and irritable without the phone
Solution –
Get rid of unnecessary apps
Customize your notifications
Turn phone off when sleeping
Keep it on silent mode when you need to do other important things
Internet/ Television shows
We depend on internet more than we'd like to believe. Internet today is invading our work, social and even personal life! We are constantly looking for apps to help us through our life; traffic, groceries, food orders, you name it. With Netflix and Hotstar coming in, our screen time has shot up to hours. Binge watching is an addiction too.
Red flags –
You feel lonely and depressed when you are offline
You relate and see glimpses of a TV character in your own life
You dream of living in your favorite show
You watch more than 6 episodes in a row without moving
You react strongly to happy and sad instances in the show
Solution –
Follow only one show at a time
Set an alarm or a timer so when it goes off you will know it's time to stop watching
Don't eat your meals when you are watching
Pledge to never waste a pleasant morning or a good evening indoors
Set time for another hobby; read, run, cook. Take your pick.
Shopping
Shopping addiction is not gender specific. It is a simple case of your body releasing endorphins that stimulate the pleasure centers in your brain each time you make a purchase thus making it a habit. Shopaholics also shop to fight negative feelings like sadness and depression.
Red flags –
You shop when you feel sad and depressed
You spend more than you can afford
Your shopping leads to fights
You live in a constant guilt of shopping and you shop some more to fight it
Solution –
Identify the triggers and make note of what makes you want to shop
Discover the need that shopping fills, try to fill it with something else
Swap shopping with something healthier
Carry only enough money to get through your day
5 questions to find out if you are addicted
* How many hours am I investing in that particular activity?
* Is it beyond normal?
* How anxious/ frustrated do I get when unable to do it for a few hours?
* Have others mentioned that I am always busy doing it?
* Are other things taking a back seat in my life, are my grades getting affected?
* Do I keep busy doing it even though I am aware of the consequences?

Gaming
Video games are addictive because they are designed to get you addicted. They are designed to be challenging enough so you keep coming back till you win it. Plus the sense of achievement it gives you overpowers the fact that it keeps you from being productive.
Red flags –
You feel restless when you are unable to play
You are preoccupied with the thoughts of the game
You isolate yourself from people to play this game
You experience fatigue, migraines
You maintain poor personal hygiene
Solution –
Time your play time with an alarm
Check if you still have real friends, virtual friends don't last too long
Start playing board games that involve real people
Ask yourself if you are doing it to avoid real life issues/confrontations
Check if its harming your real life relationships.
Exercise
Exercise is a healthy habit till it turns into an obsession. If you find yourself getting an uncontrollable urge to exercise extensively then you might have a problem at hand.
Red flags –
You want to exercise even when you have an injury
You are hyperactive with your workouts
You feel irritable and anxious when you skip a workout
You have an unhealthy fixation with muscle building, size zero
Your life activities otherwise are suffering
Solutions –
Build a supportive social circle
Expand your hobbies and interests, read or watch movies
Keep a tab of time you spend working out
If you can't find a way to stop yourself, get help
Love
Love is beautiful but obsession with the idea of being in love is unhealthy. If you feel that you can't live without a particular person then know and accept that you are addicted to the idea of being in love.
Red flags –
You keep in constant touch
You mistake romantic excitement or sexual encounters for love
You are desperate to please your partner
You are too scared to upset your partner
You find it difficult to be alone
Solutions –
Set healthy boundaries to your interaction with your partner
Set personal goals and invest time in your personal development career/life
Make time for other important people in your life
Make an effort to deal with emotions more maturely
Get help