My brother was identified with dyslexia when he entered the 8th grade of his school. He had always been a good student, getting decent grades, however, the vast drop in marks and failure in more than two subjects could not go unnoticed. Being three years elder to me I was always the annoying little sister. But my curious and observant nature could sense the change in atmosphere while he was going through this stressful period.
When Abhi was in school, more than a decade back, the concept of having a learning disability was not very prominent. Teachers weren't aware of the struggles some children went through, often taking it very lightly. He was constantly yelled at by his professors, for being a student who couldn't understand concepts the way regular children did. In spite of being extremely hard working, they never tried to recognize why he was struggling and often made fun of these difficulties. Constant comparisons with other kids were made and the fact that he was different from them was something the professors couldn't comprehend.
However, a few of his close friends offered help by staying back after school and helping with homework. However, when it came to exams, he was unable to grasp certain basic concepts, especially in math and science, making his performance below average.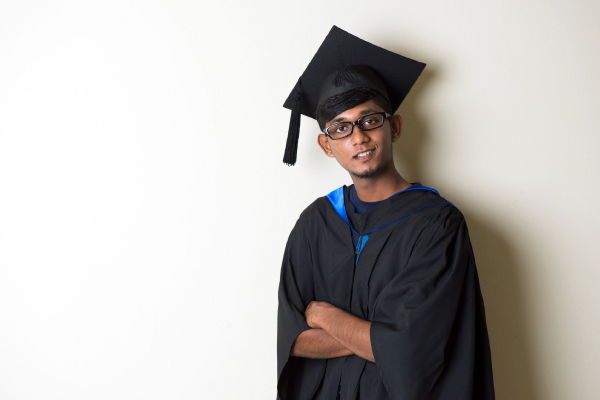 When I remember some of the parent-teacher meetings my mother went for, I cannot forget some of the taunts made on her parenting style by a few teachers. They went on to say that she did not care about his education and didn't give him enough time. On the contrary, there wasn't a moment when my mother didn't pay him and his studies enough attention. The teachers also frequently questioned his academic future and made him feel unworthy. This burden to do well made him develop severe asthma. As a sister, it was hard to see him suffer mentally and physically.
Although I was quite young to have a say in this matter, the unethical and insensitive behavior shown by his professors made me question the Indian education system. Instead of being compassionate and offering him extra classes, the school representatives blamed my parents. Attempting to make Abhi free of this torture and watching him in a state of continuous distress, my mother consulted a psychologist. After a couple of tests, it became clear that he had dyslexia.
It was challenging to explain the situation to other members of the family, but it was only due to lack of awareness on the subject. Opting to switch schools to one that specialized in children dealing with various learning disabilities seemed like the best idea and it brought a positive change in his life. The faculty members were kind and nurturing. With a class of only 10 students, each student was given personal attention.
The asthma was under control, and he wasn't stressed or fearful anymore. Abhi's teachers did not make him feel any less normal, nor did we because he went to a school with a different set-up. Furthermore, this experience gave him the confidence that being different and a slow learner wasn't a crime. Today, he has completed his bachelor's degree in management, has a Masters degree in business from a reputed university in the UK and is working in the finance department of a well-known company. In Abhi's words, "If there is a will, there is a way." And yes, it helped that my mother realized that Abhi would do well with a little professional help.
If you find yourself in a similar situation and want to talk, click on Teentalk India Expert on the Homepage.
If you have an inspiring story to share, send it to edit@teentalkindia.com.