The truth about our childhood is stored up in our body,
and although we can repress it, we can never alter it.
Our intellect can be deceived, our feelings manipulated,
our perceptions confused, and our body tricked with medication.
But someday the body will present its bill.
- Letty J Mills and Judith C Daniluk, Journal of Counseling and Development

When Natasha Agrawal was sexually violated as a child, she was told to shrug off the incident like any other and carry on, normally. But for her "Normal" meant not respecting her body. "Normal" was feeling disconnected with her body, and thinking of it as something that had nothing to do with her – and was only meant for the use of others. The only time she felt connected to her own body was when she danced. "Dance, time and again, was the only joy I felt in the body," recalls Natasha. But even that she felt was "more to show" than to "feel one with self", until she discovered Dance Movement Therapy (DMT). She learnt to move and dance for joy, which had nothing to do with her body as a sexual object.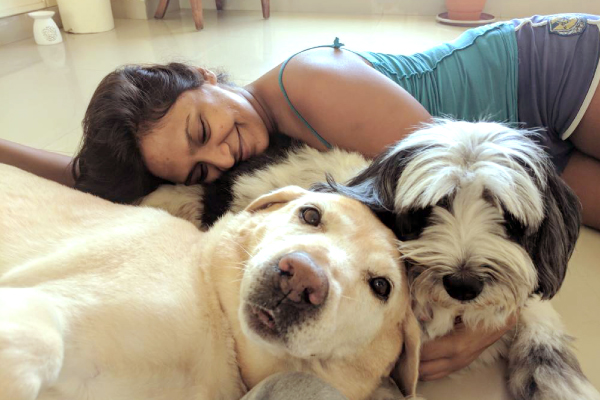 "A whole new world opened up. Emotionally I felt lighter. This new language let me breathe in peace again," reminisces the 34-year-old. It is a known fact that the mind and body are intertwined, and move in tandem. DMT uses this basic principle to "move" the mind towards a better, happier space. It could be any participant dancing on their own tune, not following any routine, which is imperative in a dance class. One another, more important aspect that differentiates DMT from a dance class is the intent. "The person is in the centre, and not the form," adds Natasha.
Using her background in dance and movement, Natasha opened Three Left Feet, a space that aims to use dance as a therapeutic bridge to healing and relaxation. Her sessions would start with a warm up intended to give the participants the feeling of "I can", moving to more therapeutic activities depending on the objective. If the objective is paired movement, then making groups of two and creating a river using a duppata helps connecting with others. On the other hand, if she is working with a group of children who have been abused in the past, and the focus of the session is to deal with trauma, an activity to say "no" would help.
Here is how it is done:
• Imagine your fingers can spout colours in all directions. Using the power of your fingers, create a colourful bubble around you.
• This is your shield, your aura.
• As you move around the area and meet different people, you have the power to allow them into your space or not.
• If you feel that you do not want to talk to someone, hold out your hand, meaning no.
• It is important to remember that the bubble is your safe space and you have control over it

"I learnt the power of no. I embodied my body, owned it and loved it again," she says. She now holds sessions for senior citizens, differently abled and rehabilitated children of sex workers and off course, teenagers. In her journey of DMT, she has helped many. One of them is Keisha, who works at All India Radio, "When I first met Natasha at her residence for a DMT session, I instantly felt comfortable with her warm aura." She further recalls that the sessions helped her become aware about her feelings and thoughts, which is important to create a bond with the self. Keisha was so impressed with Natasha's approach that she enrolled at the Tata Institute of Social Science (TISS), which offers a one year diploma in DMT.
You can get in touch with her on: threeleftfeet.natasha@gmail.com